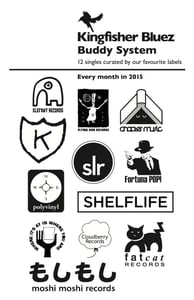 $

80.00
This singles club is 12 7"s curated by some of my favourite record labels. This singles club is a celebration of selection- whether it's DJing, running a label, or making a mixtape. It's the thrill of hearing a great song and wanting to show absolutely everyone you know (and instantly convert them!). It's the reason I started making records with Kingfisher Bluez, and I still love that feeling. These labels are inspired, creative, and run by really fantastic people. The bands are all pretty great too!
By subscribing, you will receive all 12 7"s. You will also receive a complementary copy of KFB050, which will be a very special 7" release- This will be a coupon probably that you can redeem after the club. The first 100 subscribers will ALSO receive a copy of KFB060; ("I'm Worried" by Mike Adams At His Honest Weight) on 7" vinyl, chosen by our friends at Flannelgraph Records.
There will be 3 mailouts.
The curating record labels are:
Cloudberry (New York, NY, USA)
Elefant (Madrid, Spain)
Where It's At Is Where You Are (London, UK)
Polyvinyl (Champaign, IL, USA)
Shelflife (Portland, OR + San Francisco, CA, USA)
Fatcat (Brighton, UK)
Slumberland (Oakland, CA, USA)
K Records (Olympia, WA, USA)
Chapter Music (Northcote, VIC, Australia)
Jigsaw Records (Seattle, WA, USA)
Fortuna Pop! (London, UK)
Flying Nun (Christchurch, New Zealand)
and BONUS record by Flannelgraph Records (Bloomington, IN, USA)
originally moshi moshi was slated to be part of this but I guess they aren't responding to my emails anymore so they've been replaced by Jigsaw records from seattle! awesome!
So if you're counting, that's 14 records total!!!
The first six singles have shipped, if you order now you will probably receive all the records as one batch. I'm just waiting on the last couple to arrive!
For free pickup from Neptoon Records In Vancouver, select Zimbabwe. As always, orders to Zimbabwe will be shipped for free. Pickup will be available at the same time as mail outs (3-4 records at a time).
ok, thank you! Your support means so much to me! Long live 7"s, long live indiepop!