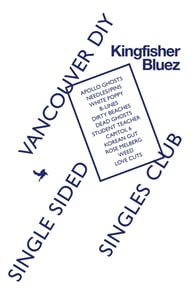 $

80.00
***Hello! Yes, this club is finished now but I'm still selling the remaining few subscriptions. They will ship all at once when you subscribe***
Kingfisher Bluez's first ever singles club showcases the best of our hometown's incredible DIY indie music scene. All these bands are great, but together they reveal an inclusive and diverse community that you couldn't get in a city with reasonable liquor laws, legal all-ages venues and a supportive local media! We are super excited about this series, and couldn't be more proud to have these twelve artists on board!
There are only 250 subscriptions available so get on it! These tunes are all currently exclusive to this series and every record is hand-numbered. There are some special treats as well including occasional FREE bonus vinyls only for our beloved subscribers!
The band "weed" has dropped out and will be replaced with a bonus record. A free replacement record will be available next year (check our fb, instagram and twitter feeds!)
For free local pickup from NEPTOON RECORDS on Main St. in Vancouver, please select Zimbabwe
all orders to Zimbabwe will be shipped free of charge
Here are the lovely bands!
White Poppy
Dirty Beaches
Apollo Ghosts
Capitol 6
B-Lines
Dead Ghosts
Student Teacher
Wee'd
Rose Melberg
Korean Gut
Love Cuts
Needles//Pins
AND bonus records (While supplies last):
KFB007: Zen Mystery Fogg- Raccoon
KFB024: The Albertans- Casual Encounters
KFB026: Reverter- No More Haircuts
Every 4 months I will mail out 5 or 6 KFB test pressings (for non-singles club records) randomly to subscribers!
Poster by Ryan Dyck at http://discounttypography.tumblr.com/